My Herbalife Breakfast
---
VANILLA ALMOND GRANOLA ( Herbalife Shake Vanilla )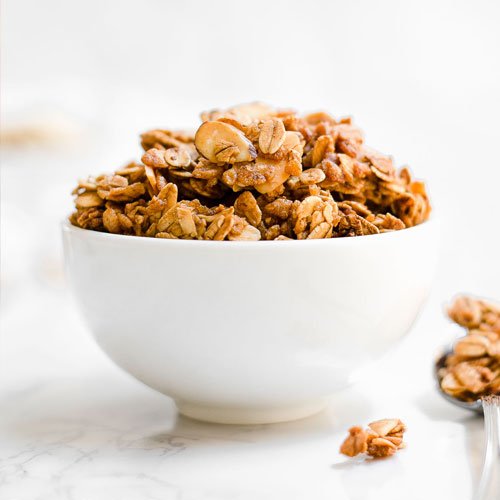 You can find all the products in our Herbalife UK online store. Herbalife products at the best price. And you will get a discount code for your orders.
1 scoop (15 g) Protein Drink Mix
¼ Cup Crunchy Almond Butter
¼ Cup of honey
1 tsp Pure Vanilla Extract
1 tbsp Ground Flax Seed 1 tsp Cinnamon, Ground
¼ tsp Salt
⅓ cup Chocolate chips
1 cup Oats
Preheat oven to 160 °C and spray a baking sheet with cooking spray or line it with parchment paper or a non-stick baking mat. Set aside. In a small saucepan over medium-low heat, add almond butter and honey, stirring until the almond butter is melted and fully combined with the honey. Stir in vanilla extract. Remove from heat and add oats, protein powder, flax, cinnamon and salt. Mix well and use a spatula to ensure that all of the oats are well coated. Spread the granola mixture over a baking sheet, leaving as many clusters as you want, and bake for 8 minutes. Stir and bake for another 8 minutes, or until lightly golden. Let cool completely before adding chocolate chips and transferring to a storage container.