Sticky Toffee Pudding
---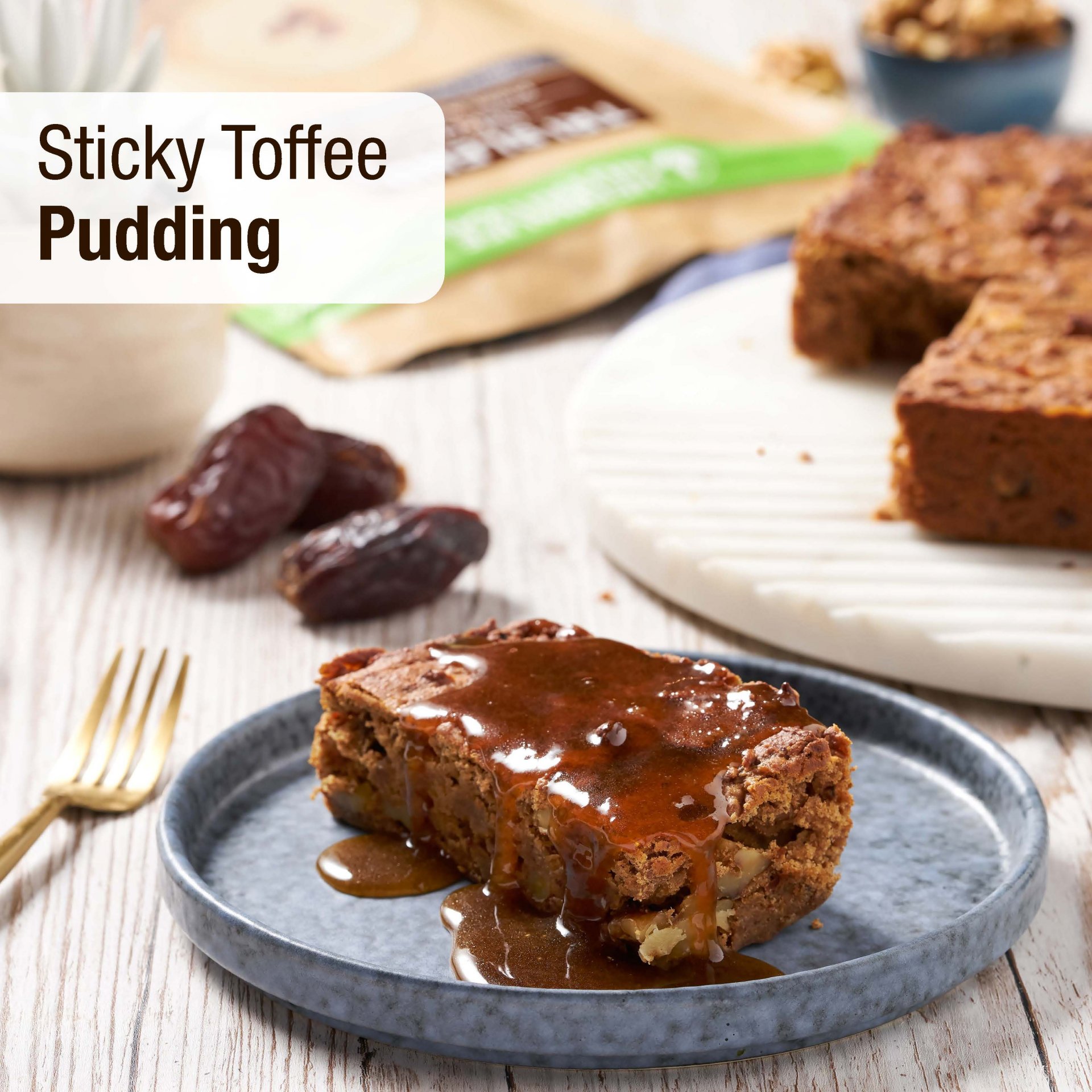 ---
Tri Blend Select Coffee Caramel
Sticky Toffee Pudding
https://www.herbal-online.uk/p7739014-tri-blend-se...
Vegan; Serves: 8
Ingredients:
For the Pudding:
• 80 g Tri Blend Select Coffee Caramel (SKU 052K)
• 100 g non-dairy butter alternative
•80 g light soft brown sugar
•200 g pitted dates
•250ml almond beverage
(or other non-dairy alternative)
•1 tsp vanilla extract
•160 g self-raising flour
•1 tsp baking soda
•100 g walnuts, chopped
For the Sauce:
• 50 g non-dairy butter alternative
• 100 g light soft brown sugar
• 25 ml almond beverage
(or other non-dairy alternative)
• ½ tsp vanilla extract
Method:
1. Preheat the oven to 180°C (356F).
2. To make the pudding mixture, cream together the non-dairy butter alternative and sugar.
3. Chop the dates as finely as possible and add to a saucepan along with the almond beverage and vanilla extract. Simmer for 3-5 minutes, stirring constantly until the dates soften and start to break apart.
4. Add the date mixture to the non-dairy butter-sugar mixture and combine. Add the self-raising flour, the baking soda, the chopped walnuts and the Tri Blend Select Coffee Caramel and stir thoroughly.
5. Grease the oven tray with butter and then line with baking paper.
6. Pour the pudding batter into the oven tray, and bake for 25-30 minutes. The top should have darkened and be dry to the touch.
7. Insert a skewer into the centre of the pudding. If it comes out dry, the pudding is ready. If not, cook for 5-10 minutes more. Allow to cool.
8. Add the sauce ingredients to a saucepan. Heat on med-high heat until the butter is melted, and the sugar dissolved. Bring to a very gentle simmer and leave it to simmer for 5 minutes without stirring, adjusting the heat as necessary.
9. Cut the pudding into 6 slices and serve with a drizzle of sauce.
468kcals; 9.6g Protein
Only when prepared as instructed on the product label does our product deliver the full nutrition benefits described on that label. Please remember that if a Herbalife Nutrition product is used in a heated recipe, some vitamin levels in the finished product may decline in comparison to label values.