Spinach Protein Omlette
---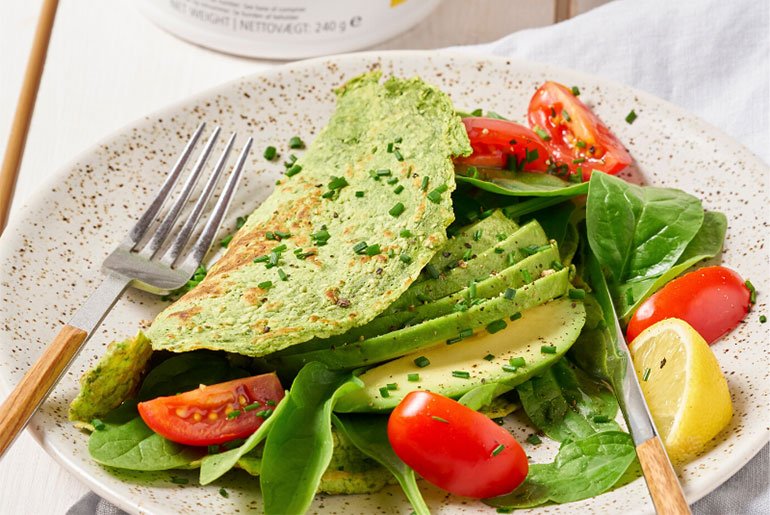 ---
Spinach Protein Omlette
A delicious savoury wrap can be filled with your favourite veggies and protein for a light meal or a good idea for the perfect snack.
Preparation time: 30 minutes
Serves: 10 (Serves 5)
Ingredients:
20 g Herbalife Nutrition Personalized Protein Powder
125 g fat free Greek yoghurt (do not use regular yoghurt)
4 egg whites
2 tbsp water
30 g plain flour
55 g frozen spinach, thawed
2 tbsp white chia seeds
1 tsp salt


Method:
1. Put yoghurt, egg whites and water in to a food processor or blender; add flour, Herbalife Nutrition Personalized Protein Powder, spinach, chia seeds and salt. Blend thoroughly. Mixture should be the consistency of pancake batter*.

2. Spray a small non-stick skillet with non-stick pan spray (or wipe with a little bit of oil). Heat pan over medium-high heat.
3. When pan is hot, pour about 3 tbsp of batter into the pan, and then quickly and very gently spread the batter with back of a metal spoon into a 5-6" circle. Let the wrap cook until nicely browned on the bottom, then gently turn and cook until the second side is also nicely browned.
4. When both sides are brown, gently place on paper towels or a cooling rack to cool. Repeat with remaining batter, spraying pan with non-stick spray before making each wrap, to prevent sticking.

*Chia seeds soak up a lot of liquid, especially if the mixture is allowed to sit, so it's best not make this batter ahead of time; instead, prepare the batter just before you are ready to make the wraps. If, as you are cooking the wraps, you find that the batter is getting thicker, stir in a little water – a tablespoon at a time (be careful not to add too much) – to maintain the pancake-batter consistency.
* Only when prepared as instructed on the product label does our product deliver the full nutrition benefits described on that label. Please remember that if a Herbalife