Recipes Herbalife ( January 27 , 2022 )
---
Seared squid with parsley, garlic and chilli oil
This light and delicious meal is perfect for lunch or dinner. The parsley, chilli, rocket and squid bring a vibrant touch to the dinner table whilst the lemon juice adds a refreshing zest to the finished recipe. You can even serve as a starter if you're having guests over.

Serves 2 as a main course or 4 as a starterINGREDIENTS• 350g good quality frozen squid (thoroughly defrosted)

• 4 tablespoons olive oil
• 1 handful of parsley leaves, roughly chopped
• 2 cloves of garlic, crushed
• 1 red chilli, deseeded chopped
• sea salt and freshly ground black pepper
• 75ml extra virgin olive oil
• Rocket leaves

• Squeeze of lemon juice, plus lemon wedges to serveRachel has prepared some other exciting recipes exclusively for Herbalife Nutrition. Some of these include: Bulgar Wheat Salad, Homemade Nut Butter, Asian-Spiced Sticky Pork Salad, Carrot Apple and Cucumber Salad, Courgette, Mint and Goat's Cheese Frittata, Brown Soda Scones with Seeds and Formula 1 Banana Pancakes.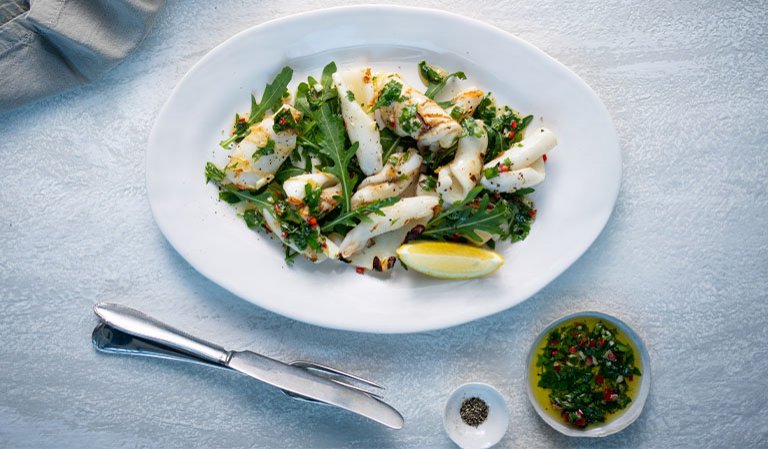 https://www.herbal-online.uk/#

METHOD

Place the prepared squid pieces into a bowl and drizzle with the 4 tablespoons olive oil to cover, then season with salt and pepper.

Put the parsley, garlic and chilli into a bowl, season with salt and pepper and add the olive oil to make a loose sauce. Set aside while you preheat your frying pan or grill pan for cooking the squid.

Place a grill pan or large frying pan on a high heat and allow to get really hot, this may take 10 minutes. Transfer the squid from the bowl to the hot pan, in a single layer, and cook for 3-4 minutes on each side or until slightly browned around the edges.

The edges will curl up a little while cooking.Once the squid is cooked, transfer it to warm plates, drizzle with the chilli and parsley oil, scatter each plate with a few rocket leaves.

Add a squeeze of lemon juice (and wedges) if you wish.

Serve straight away.

NUTRITIONAL INFORMATIONFigures when served as a starter*Kcal364Fat (g)32.0Carbs (g)5.3Sugars (g)0.80Protein (g)14.4Fibre (g)0.78*Assuming the recipe yields 4 servings.